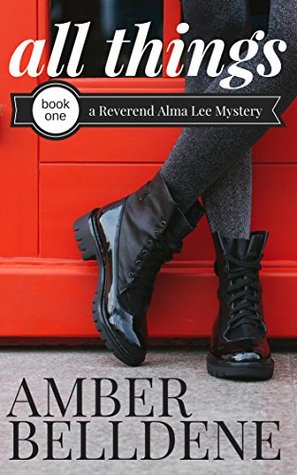 Four out of Five Stars
The Summary: A priest and a rabbi walk into a lesbian bar…
If something is unjust in San Francisco's Mission District, the Reverend Alma Lee will face it down. She leads her vibrant church of St. Giles' with compassion and sass. Her busy days involve match-making, meddling, and saving the city's beloved lesbian landmark, The Carlos Club. Alma meets the intriguing Rabbi Naomi Cohen there, and she's smitten.
Death comes to the church's door…
When the proprietor of The Carlos Club turns up dead on the steps of St. Giles', Naomi's brother is the number one suspect. She needs help exonerating him, and Alma's knowledge of the neighborhood makes her the perfect priest to solve the case. If only Alma's ex-boyfriend, homicide detective Cesar Garza will accept her help. She still feels the pull of their old connection, but she's convinced the sexy-smart rabbi is her perfect mate. . . Too bad Naomi is playing by different rules.
Can Alma solve the case before the murderer silences her forever?
The Review
I have to admit, the tagline is what initially grabbed my attention. "A priest and a rabbi walk into a lesbian bar…" Like, what? Rewind that and let me hear that again. Yes, that did say a priest and a rabbi walk into a lesbian bar. I'm a fan of cozy mysteries, and having a splash of a LGBTQ friendly priest piqued my interest. I needed know if if Alma was going to turn out life Father Brown (I binged the show on Netflix and find Father Brown and his clique particularly invigorating).
Alma is her own brand of priest. She's bisexual, nosy, vegan, honest and has a crush on a lady rabbi.The story opens up at the closing of a local lesbian bar called The Carlos Club that hadn't evolved with the community and the owner wasn't business savvy.  Once the owner turns up dead (what's sad is I can't remember her name) on the church doorstep, Alma has to act. Her friend has been murdered and crawled to her church as she died.
The police focus in on the new property owner, the brother to Naomi, the rabbi that Alma is crushing on. And here comes the drama. The cop in charge? Alma's ex-boyfriend Cesar Garza. It's obvious he hasn't gotten over Alma and harbors some hard feelings for her. He wants her to stay out of the investigation and safe. Someone had attempted to poison her, and that should be enough to keep her away. But it's not.
She can't Naomi's brother take the fall. Not when he's innocent. So she figures out how to use her community knowledge to find the evidence she needs to find the real killer. What was really neat about this was I was debating between two people being the murderer but I was wrong. I liked that I was wrong because most of these cozy mysteries I have it figured out pretty quickly.
The romance aspect of this was not a major plot point in this. Anything other than a kiss between Alma and Naomi ended up in a fade to black type of scene. It was fitting for the type of novel this was. There's still a part of me that really wanted more though. Like let the Reverend get some hot lady love and don't let her go back to Cesar like what was hinted at. Keep Reverend Alma with the ladies!
I'll totally read more in this series though. I liked her sassy self.