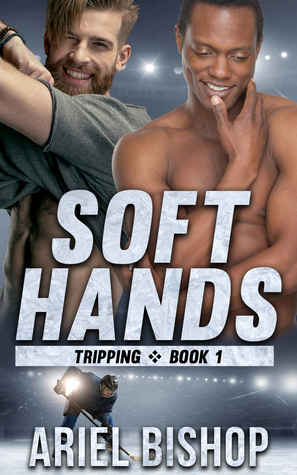 This is book one of the Tripping Series
Five out of Five Stars
Summary: He's always hit them and quit them…
Xander Richards, a winger for the Wisconsin Wendigos, has a reputation for never sleeping with the same person twice. Some say it's 'cause he doesn't have any heart, but if you asked him at his most honest it's because his heart isn't his own: he's hopelessly in love with his best friend and former linemate, who's now happily married and traded away to Seattle last season.
Playing the ice has always come easy…
When Xander asks out Jordan Darling, team trainer and massage therapist, he doesn't expect to get shot down. It's a first, but it only makes Xander that much more determined to make Jordan his. But Jordan wants a relationship, not just the one-night stands that make up Xander's sexual life.
Just when he thought his heart was on ice, love comes skating in…
What Xander doesn't know is that Jordan has been nursing an unrequited crush on him for over a year. Lonely without his best friend, when he finally opens his eyes to what is right in front of him, the chemistry is undeniable. And for once, it keeps Xander coming back for more
The Review
By now, you all know I'm a sucker for books featuring hockey players. When I got the opportunity to read Soft Hands by Ariel Bishop I was so excited.  This had everything that I wanted in a book. There was tension between the man characters, attraction, pining, figuring things out and actual romance that led up to the steamier scenes!  And I read it all in one sitting. I loved it, don't judge.
One thing you should know, there is a scene in the beginning that involved a female so if you're a stickler for the books needing to be 100% M/M it might bother you. Honestly I forgot about it until I sat down to write my review.
Xander Richards is what you immediately think of with a pro-athlete. He takes care of his body, lavishes in the attention given to him and relishes in his sexuality. What I found quite interesting was he's demisexual. Like how awesome is that? I consider myself a demisexual so to see someone write about it had me excited.
Then there's Jordan Darling, a Louisiana boy. Oh my gosh, does this get any better? (I live like an hour from Baton Rouge so I spazzed a little) There were a lot of little details that definitely showed he was from the south. His calls with his Nana, the food, and the sense of family he has.
Jordan fights his attraction to Xander because he doesn't want to be another one night stand. He wants more. He fights that attraction at every turn and corner because Xander is constantly there. Any scene that had Jordan massaging and working Xander's shoulder was delicious to me. They had to fight their attraction, remain professional and not do anything inappropriate.
What I absolutely loved? The fact that Xander was a geeky hockey player. He loves to read and watch all the shows I like. It was nice to see a more introverted relationship portrayed throughout this. I just wanted to shake them at times and say, "talk to each other!". But they get figure their stuff out.